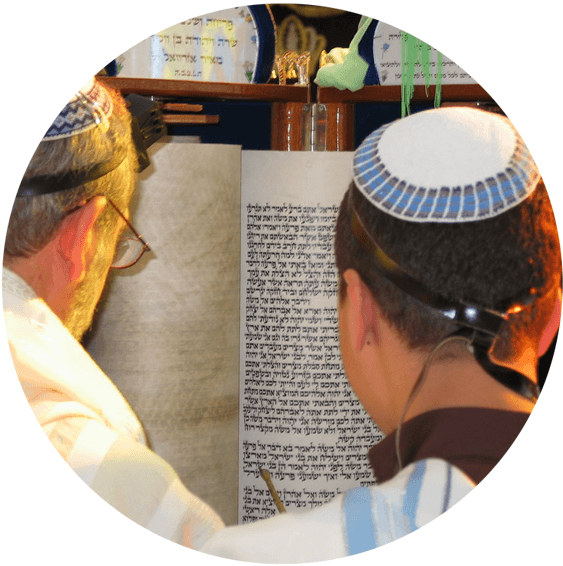 כי מציון תצא תורה ודבר יהוה מירושלם 
For out of Zion shall go forth the Law, and the Word of the LORD from Jerusalem.    Isaiah 2:3
At Kehilat Sar Shalom, we strive to bring our members and listeners the Word of God in its Hebraic context. We want to return to the same understanding of the Word of God that the Disciples of Yeshua (Jesus) had in the First Century. In order to restore this understanding it necessary for us to study the Torah - the first five books of the Bible, which were given directly by God to Moses at Mount Sinai.  
When speaking of the Torah, our Master, the Messiah Yeshua said this of himself in John 5:46-47: 
"If you believed Moses, you would believe me, for he wrote about me. But since you do not believe what he wrote, how are you going to believe what I say?"
Yeshua tells us that Moses wrote about him in the Torah - isn't that amazing? However, Yeshua is not the only one to say such a thing. The Writer of Hebrews says much of the same thing when he quotes Psalm 40 in Hebrews 10:5-7: 
Therefore, when Messiah came into the world, he said: "Sacrifice and offering you did not desire, but a body you prepared for me; with burnt offerings and sin offerings you were not pleased. Then I said, 'Here I am—it is written about me in the scroll— I have come to do your will, my God.'"
So both Psalm 40 and Hebrews 10 tell us that the Scroll of the Torah is a book about the Messiah. This should come as no surprise to we believers because John also tells us this in his Gospel in John 1:14,
The Word became flesh and made his dwelling among us. We have seen his glory, the glory of the one and only Son, who came from the Father, full of grace and truth.
John tells us that Yeshua is the Word made flesh. And when John wrote this, the Word consisted of the Torah and the Prophets, what is commonly referred to as the "Old Testament." Therefore, John tells us the same thing as the Writer of Hebrews, that the whole of the Word of God is a revelation of the Messiah.
We in the church have missed the greatest revelation of the Messiah given to man by not studying the Torah. It's how we know for certain that Yeshua is the Messiah sent by God to redeem the world. And when we compare what is written there with the things that he did on earth, even a child can see that Yeshua is the Messiah of Israel. Join us as we study to find and know our Messiah in the Torah. We're studying Numbers and Deuteronomy .